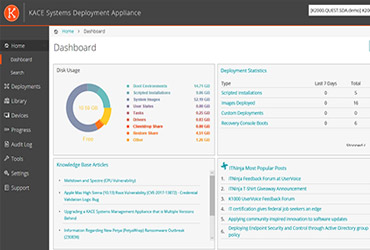 Get a fast, automated way to execute large-scale OS and system imaging deployments across multiple sites with the KACE Systems Deployment Appliance (SDA). Streamline initial distributions and ongoing administration of gold master images and driver updates across diverse hardware platforms — reducing operational costs and complexity while improving accuracy and reliability, and freeing your IT staff to focus on other high-priority projects.
See how with the KACE SDA you're able to:
Centralize systems imaging and software deployment.
Fast delivery of mass systems deployments to remote sites from any location.
Automate OS and software distribution to ensure systems are up to date and secure.
Reduce deployment times to get up and running in less time and on budget.