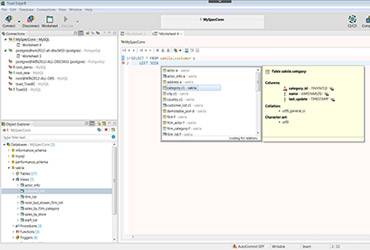 Toad Edge helps you ramp up on open source RDBMSs fast with support for the most recent versions of PostgreSQL, EnterpriseDB, Amazon Redshift, MariaDB, and MySQL. Whether you're running in a Windows or Mac OS environment, the short learning curve of Toad Edge helps you begin developing immediately with our intuitive GUI.
Use Toad Edge to:
View, explore and edit your database schema, objects and properties.
Manage your database users and privileges.
Write complex SQL code comfortably in a SQL worksheet.
Compare and synchronize databases using schema compare.
Synchronize to your file systems, making it easy to work with your version control.
Work more easily with JSON data types with the JSON editor.
View running SQL and other attributes with the session browser.