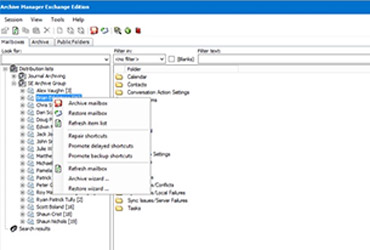 Automatically and transparently centralize, control and retain your organization's email. See for yourself how to:
Reduce your email storage by up to 80% and reduce your email backup times by 50%.
Consolidate disparate Exchange and storage infrastructures to provide centralized lifecycle management with cost-saving efficiency.
Collect, upload, and archive PST files to protect them and make them available—even when working remotely.
Enable end-users to have access to all their data while reducing the need to set mailbox quotas and eradicate dependency on PST files.
Capture, route, store, restore, and manage archived emails automatically with a Hierarchical Storage Management (HSM) archive engine.